HIGHLIGHT /
Today, value chains are being challenged across the globe. Volumes are growing every day, and we see logistics and supply chain disruptions due to lockdowns during pandemics, geopolitical tensions, and volatile markets, to name but a few.
Today, value chains are being challenged across the globe. Volumes are growing every day, and we see logistics and supply chain disruptions due to lockdowns during pandemics, geopolitical tensions, and volatile markets, to name but a few. Marine transportation is one of the most affected areas in this global supply chain model, while it is one of the markets where a great level of digital added value is necessary to reduce cargo losses: insurance services are one of the key aspects to revamp.
In 2021, a domino effect along the supply chain was caused by the incident of Ever Given, one of the world's largest container ships, stuck in the Suez Canal. This incident has led to damage of goods, delayed delivery, disruption of the supply chain, and massive insurance claims. The owner and insurers of the ship were facing claims for loss of revenue from the Suez Canal Authority (SCA) and from more than 300 ships that were obstructed.[1] This incident, along with other catastrophic events such as the coronavirus pandemic and winter storms in the US, has put additional pressure on the already hardening commercial insurance and reinsurance markets.
Moreover, it's not surprising that losses due to poor transportation conditions happen everywhere and every day, and this has become a multimillion-dollar problem. Yet, loss prevention is key in the insurance industry.
More than 70% of supply chain claims are due to breakages, and in some cases, products are not tracked for months and found to be damaged or lost in transit. For stakeholders involved in the value chain insurance claims, including logistics operators, carriers, manufacturing companies, and insurance companies, two critical questions have come up: How do we know if the goods remain intact? And who or which process is accountable for the damage?
This is especially relevant in complex supply chains, where several companies and/or several means of transport are involved. The lack of visibility can prevent insurance companies from taking proactive decisions in real-time, add claim management overheads and general costs, and damage insurer-supplier relationships and client satisfaction.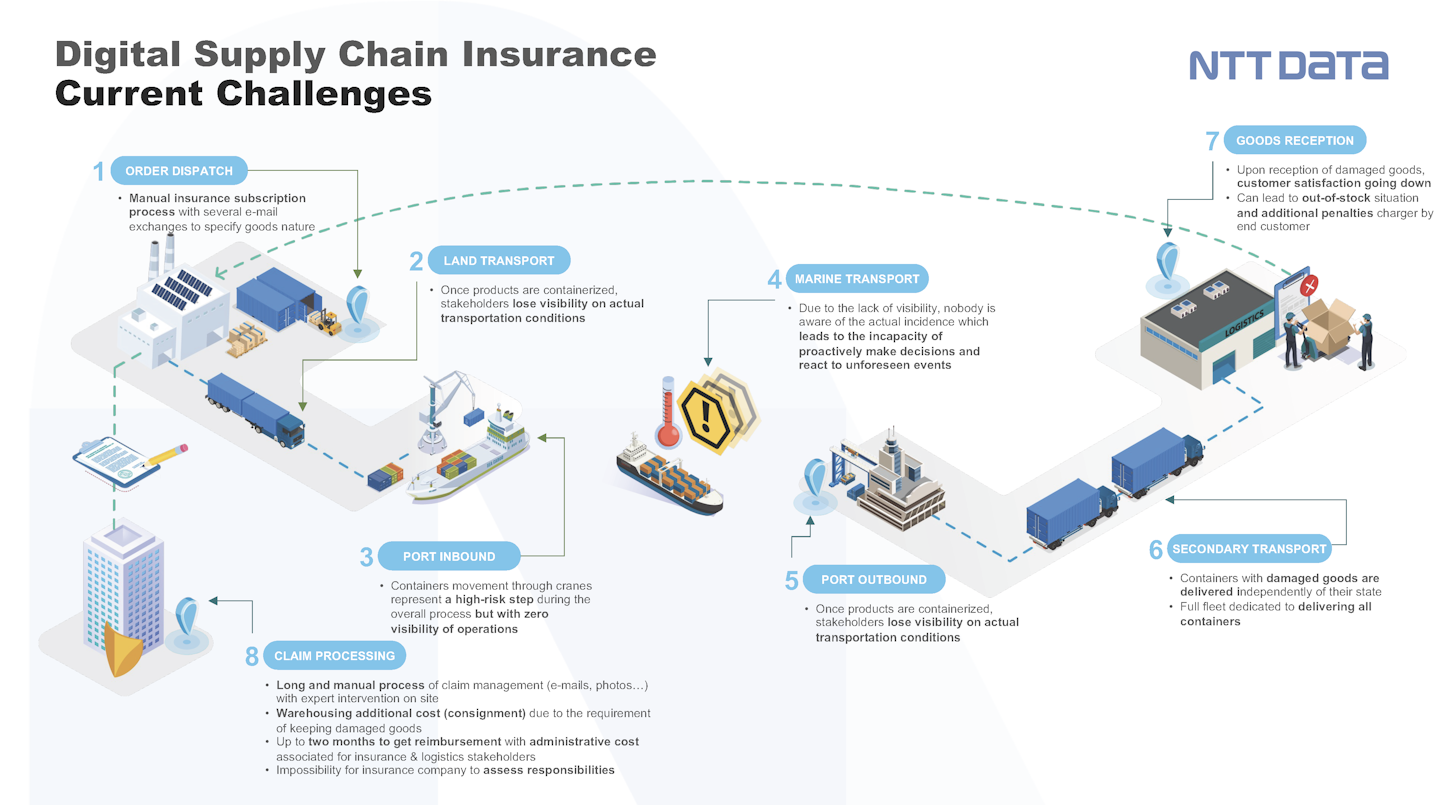 Opportunities: Insurers Leverage Technologies and Real-time Data to Stay Ahead
To stand out, insurers nowadays are expected to look after their supply chain partners and mitigate their risks, in a way that is more agile, more efficient, and more customer-centric. For all stakeholders involved in the value chain insurance claims, especially insurance companies, it is critical to figure out the status of the goods and the responsible person in time.
Opportunities have been generated around the possibility of improving visibility and traceability throughout the transportation process. In this context, insurers are exploring new ways of digitalizing supply chain insurance by leveraging disruptive technologies, such as IoT and Blockchain, and real-time data to stay ahead.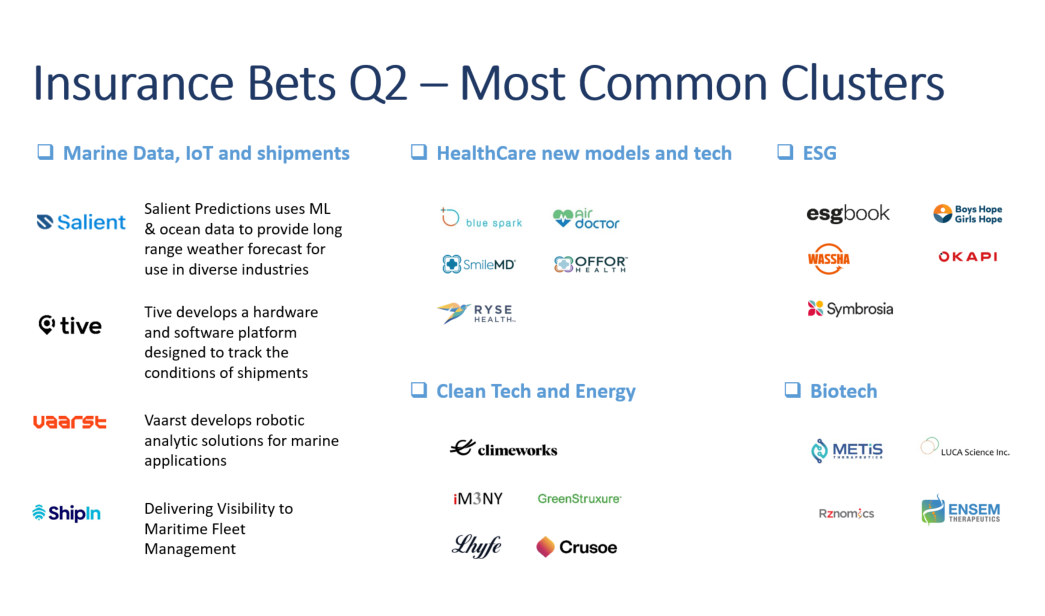 In Q2 2022, one of the biggest clusters in terms of investment made by insurers was Marine related to cargo, IoT, and Data. More specifically, the highlights are ocean data and weather forecast, cargo tracking, and robotic analytics.
Major efforts have been made in designing more digitalized insurance products, more integrated administration portals, more dynamic policy underwriting, and more transparent claims processing. 
NTT DATA and SAP: Co-innovation Solutions to Facilitate Insurance Procedures
At the end of 2020, NTT and SAP announced the strategic alliance with the shared vision to create a new era of digitally connected value chain solutions. This year, the partnership was further advanced with the new co-innovation solution to improve supply chain insurance management announced by NTT DATA and SAP Asia Pacific and Japan (APJ) in Tokyo on July 12. The solution, Connected Product, combines NTT smart shipment solution and SAP logistics business network and delivers real-time monitoring and tracking of global shipments with matching insurance coverage. With NTT DATA Smart Shipment, we introduce the new Parametric Insurance and the end2end solution, intending to facilitate smart policies for insurance companies, agent brokers and clients, and make claim management smoother.
Smart Shipments Insurance
Quantifying the risk accurately, with structured data and in real-time, allows us to have a better qualification and forecast of the risk and, in turn, provide a more competitive product to the market: Parametric Insurance.
On the Smart Shipments platform, new policies can be configured based on the new profile configurations according to our use cases, through the "turn into Smart Policy" button. Once the policy is created all the certificates and shipments will be gathered in the platforms with all the details. As the Smart Shipments platform is integrated with Zoomlo Tracker, all data from Zoomlo Tracker related to the Policyholder, Type of Policy, Shipment Status, and Alerts are shown on the platform. On the Smart Shipments platform, when alerts are received, events are automatically triggered based on the Insurance Coverage and Conditions agreed upon.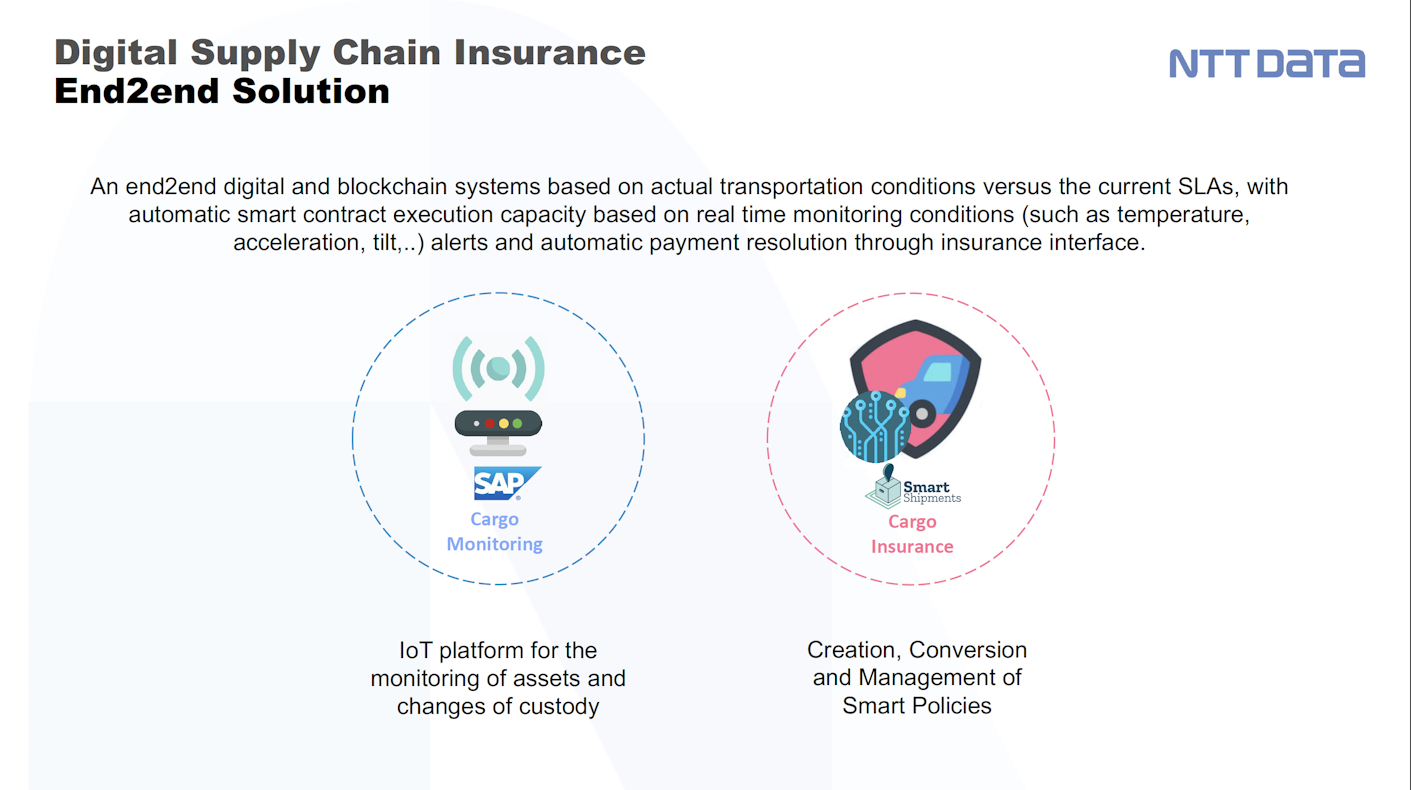 End2end solution
We offer an end2end solution from the distribution of the policies, monitoring the change of custody and the state of the goods, and the communication and declaration of incidents, as well as the command center of the data for the development and underwriting of the product. This allows us to eliminate intermediaries and manual processes with a significant cost reduction.
The end2end digital and blockchain systems are based on actual transportation conditions versus the current SLAs, with automatic smart contract execution capacity based on real-time monitoring conditions (such as temperature, acceleration, tilt, etc.) alerts and automatic payment resolution through an insurance interface.
Between March and August, 20 shippers will be tracking 400 live shipments delivered in Europe, Asia, and America, monitoring more than 5,000,000 kilometers, and collecting more than 200,000 pieces of data from the sensors.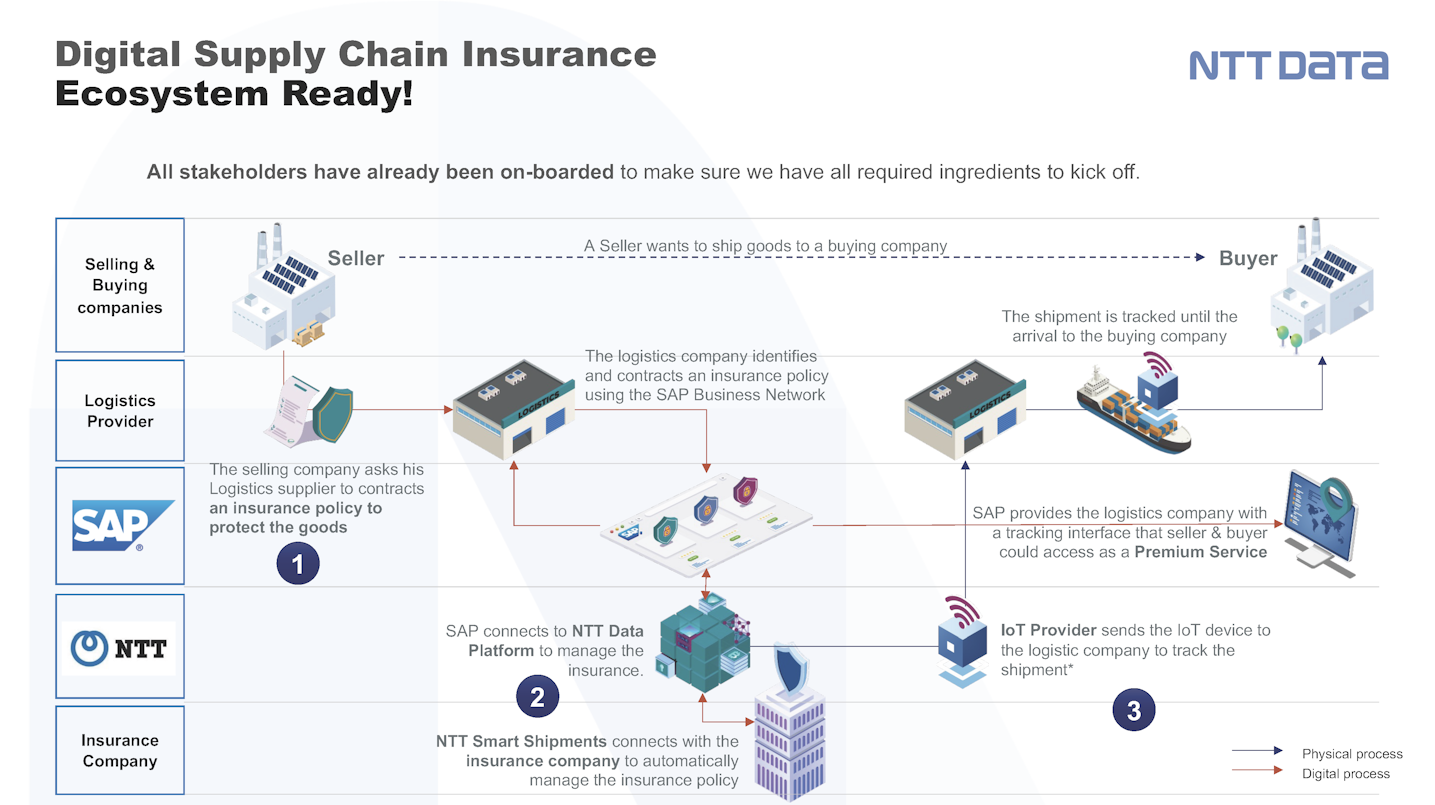 [1] https://www.reuters.com/article/egypt-suezcanal-ship-insurance-int-idUSKBN2BG329
Published on 01/01/2023
~ 5 minutes