HIGHLIGHT /
Data is the fuel of today's Insurance industry. Personalized products and experiences, better understanding of the policyholders, greater precision in underwriting and claims management process. In all the areas of the Insurance value chain, data must be present, actionable and real-time.
We have been talking, in a generalized way and in all industries, about the importance of data and the consequent potential application of Artificial Intelligence. The Insurance sector is not an exception.
Undoubtedly, there are several points of view when concerning this matter. From those who bet over a great disruption of these technologies and promote them actively, to those who, from other perspectives, think that these innovations conflict with the rol of human beings in today's society: new ways of working, mechanization or industrialization of different processes, etc.
In the Insurance sector, we are not exaggerating when affirming that technologies as Data Intelligence or AI itself have become indispensable. They present themselves as one of the major leverages for the creation of new business models, products and services that insurers offer to their clients.
The new Insurance liquid ecosystem paradigm has come to stay. In this scenario, consumers interact with companies, but in a fluid and liquid manner. For instance, there are already Airlines that offer health-related services in partnership with an Insurance company or a healthcare group. And they do so with great agility to give answer to the needs of their clients in the face of challenges as important as the one presented by COVID-19.
Within these new associated model, we have identified four ecosystems. The first one is Smart Mobility, which explains how people move on a daily basis or on travel and leisure trips. Secondly, Healthy Living, which shows how are they preparing themselves to have a better life in the future, taking care of their health from the very beginning (prevention, nutrition, exercising…) or at late stages, or how they plan their finances to reach elderly with a better quality of life (Life Insurance, Life-Savings, Pension Plans…). Moreover, Home Safe Home, which deals with those spaces where people spend the majority of their time, rather because of their jobs, home, university... And finally, Business Shield, an ecosystem thought for companies and freelancers.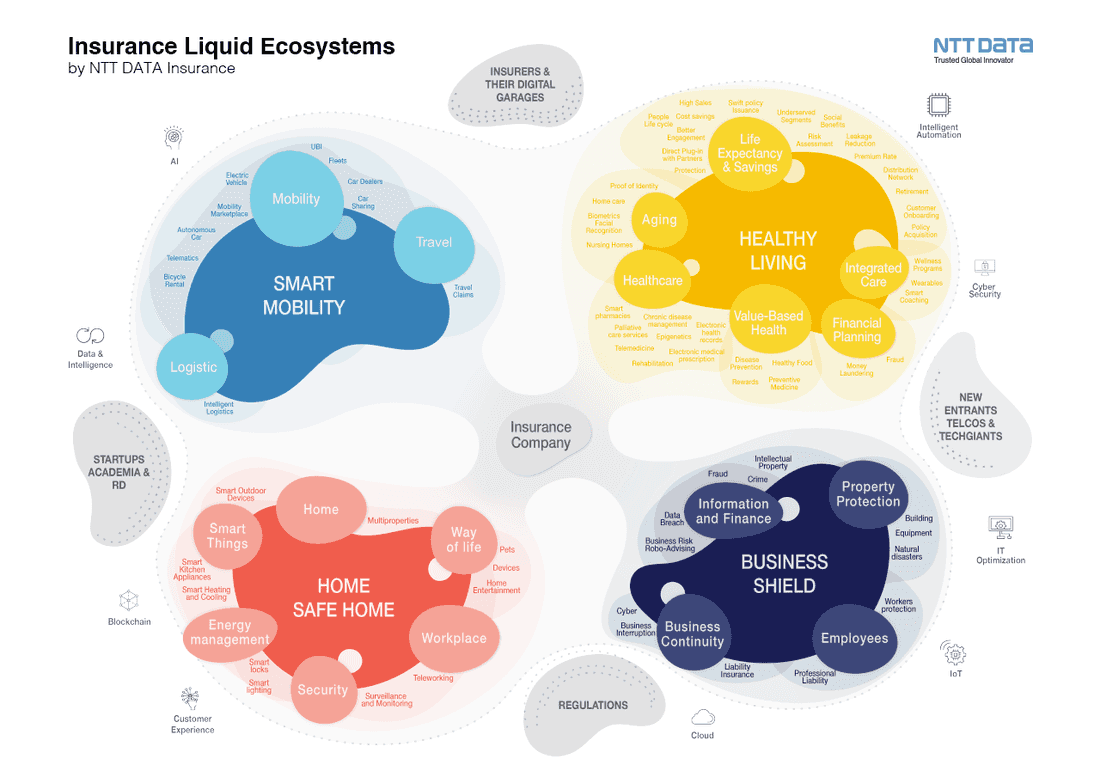 These ecosystems are interconnected. And consumers and companies are present in all of them, because of why it is fundamental for organizations to understand the new rules: companies competing for new spaces and models (which are no longer static compartments for each industry) and consumers more willing to acquire goods and services from companies that understand better their needs.
We are, inescapably, in the era of connectivity and, in this new concept, data is one of the key factors. Companies must articulate their strategies around data management in all the areas of their value chains to achieve an orchestrator role in such ecosystems.
From our standpoint, there are two essential pillars for an insurer to be connected to the rest of actors of the ecosystem: to be simultaneously a data-driven and a service-oriented company.
This smart and agile way of understanding and managing data allows to interact with clients in the most relevant moments (and touch-points) for them –even on a preventive manner–, which, consequently, leads to tailor made products and services that respond directly to their real needs.
Despite the fact of being a data-driven company offers innumerable benefits, the need for implementing these technologies presents, at the same time, a significant challenge for insurers. This path to ecosystems requires a transformation of the companies themselves, which have to learn how to capitalize data and optimize processes, and of their infrastructure, in order to occupy a relevant place within the different ecosystems. To be a data-driven company demands the realization of a profound ICT transformation in the organization (to prepare itself to be connectable and to connect itself to third parties thanks to the use of Cloud technologies, APIs, modular, standardized and scalable solutions, among others).
The journey towards ecosystems must also force the companies to make changes in their internal understanding of data: new profiles, new abilities and digital competences, among others. Data must be embedded in the ways of working (and most importantly, of thinking) of all professionals among an Insurance company. People, talent and culture are three concepts that must necessarily be linked to data.
Along these lines, one of the sector's top priorities must progressively move towards perceiving the data as an enabler: collect it and work with it in an integral and transactional, in all processes and areas of the Insurance value chain, and not just in isolated moments. It is not about a posteriori evaluating the data that were collected from clients to take actions in the future, but rather understand them since the moment they are obtained to make decisions in the real-time (from the product design to Claims management, going through milestones as important as marketing or subscription).
In this context where conditions are constantly changing and adapting to the impact of the forces of acceleration (startups, new entrants from other industries and TechGiants, insurers' digital garages, and regulations surrounding technology and Insurance), is more necessary than ever for the areas of technology and business to start working together. The combination and collaboration between these teams is crucial for taking advantage of the potential of data. Joint and coordinated teams capable of making the most of the data and exploiting it to its full extent, making posible a reality not within the reach of all companies: to be increasingly agile and to bring new proposals to the market close to the needs and demands of their clients.
But this new reality, more competitive on the other side, does not imply that companies can use data in any way. It will be fundamental for them to establish an ethical and responsible behavior around data, for which they will have to incorporate a new manner of treating clients' information into their DNA. Consumers will be willing to give in their information with the aim of obtaining better prices, discounts or personalized offers, but they are also increasingly reluctant to let companies use their information indiscriminately for purposed that do not have to do with their direct interest.
From our perspective, without question, capitalizing data in the Insurance business will go through orienting itself towards ecosystems. And for this, a true transformation of the company model is necessary, not only in the digital or technological field.
Insurers must start thinking about playing part of those connected spaces that are ecosystems. Where the Insurance company does not have to be a company in the sector, but may be a Technology Giant or a company from another industry that has better understood that data is the engine of ecosystems.
Published on 09/07/2021
~ 5 minutes