HIGHLIGHT /
Following our analysis of the activity of Insurtech companies in 2021 for our Insurtech Global Outlook 2022 Report, we can see that the market has also bloomed during this first quarter of 2022. Track-record investment, geographical distribution and leadership and those business trends that will be shaping this years' Insurtech landscape. 
Q1 Was the Second Best Q1 for Insurtechs Ever!
From the beginning of 2022, despite the pessimist expectation, the investments in insurtechs in the first quarter of 2022 reached the second-best historical value of funding amount since 2016 comparing with the Q1 of the previous years.
Insurtech Investment Development of Q1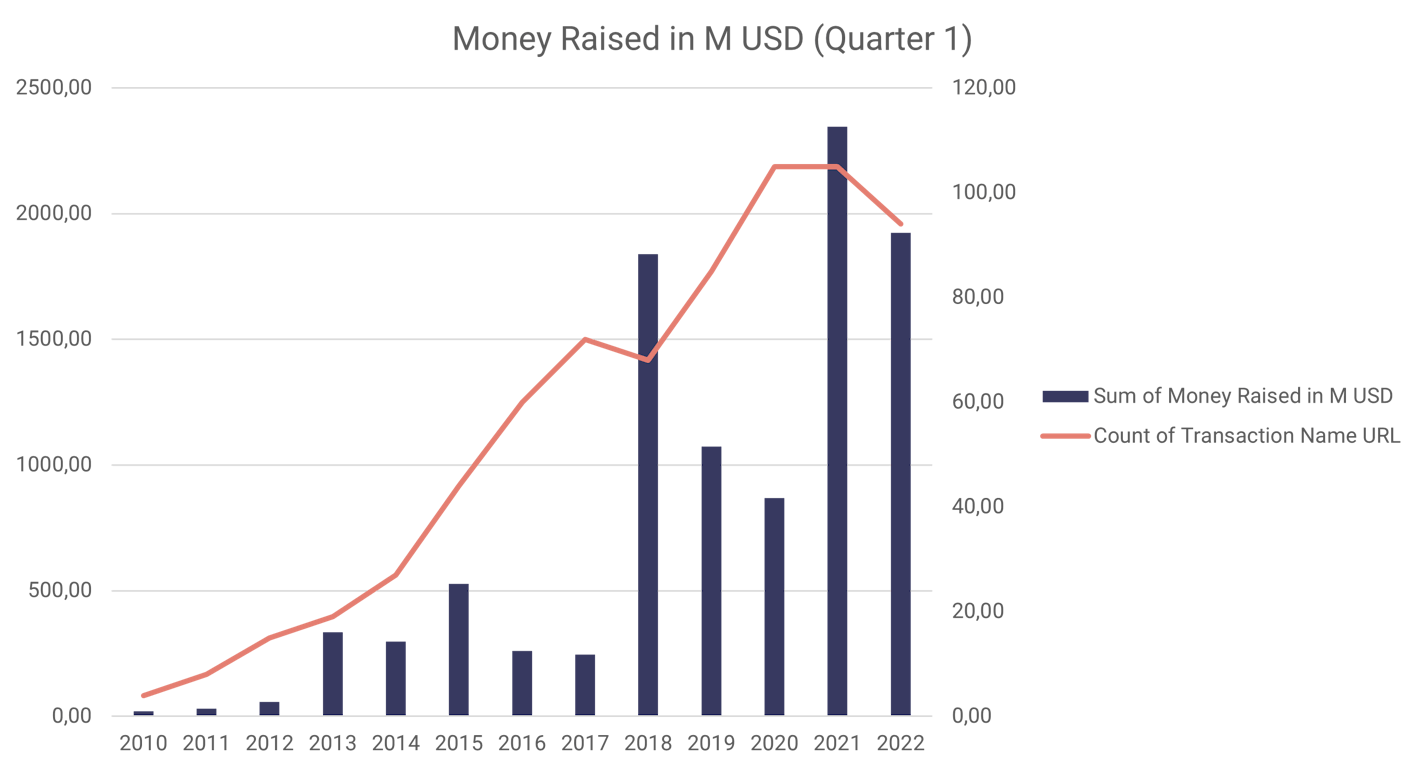 A few hypotheses could be raised to understand the situation. First, the investments growth could be explained by large follow-up deals that had boosted the region numbers, these deals were made by the same investors that may have committed to invest another round based on the Insurtech achieved milestones. Second, investments have been oriented to startups' profitability and traction.
Let's see some examples: PolicyGenius doubled the life coverage issue from $45B in 2020 to $90B in 2022; Digit insurance reached 670M in gross written premium in 2021 with an increase of 62% and kept the same level in 2022 despite the impact of the political and economic events.
Descartes Underwritting acquired more than one hundred Fortune 500 clients in 2022 with a growth rate of 150% when compared to 2021, seeing how corporates are increasingly betting for comprehensive and transparent insurance that covers them efficiently against critical external events, in a context where climate change and many other risks including, most recently, the pandemic, are increasing their needs for this type of products.
Europe Stands Out…. Again!
In our latest Insurtech Outlook we highlighted the growth in the region, and now it is the first time that Europe surpasses North America in terms of average deal size. Besides, the region showed the highest historical average per deal in the last 10 years.
Average Deal Size of Insurtech Investment of Q1 by Region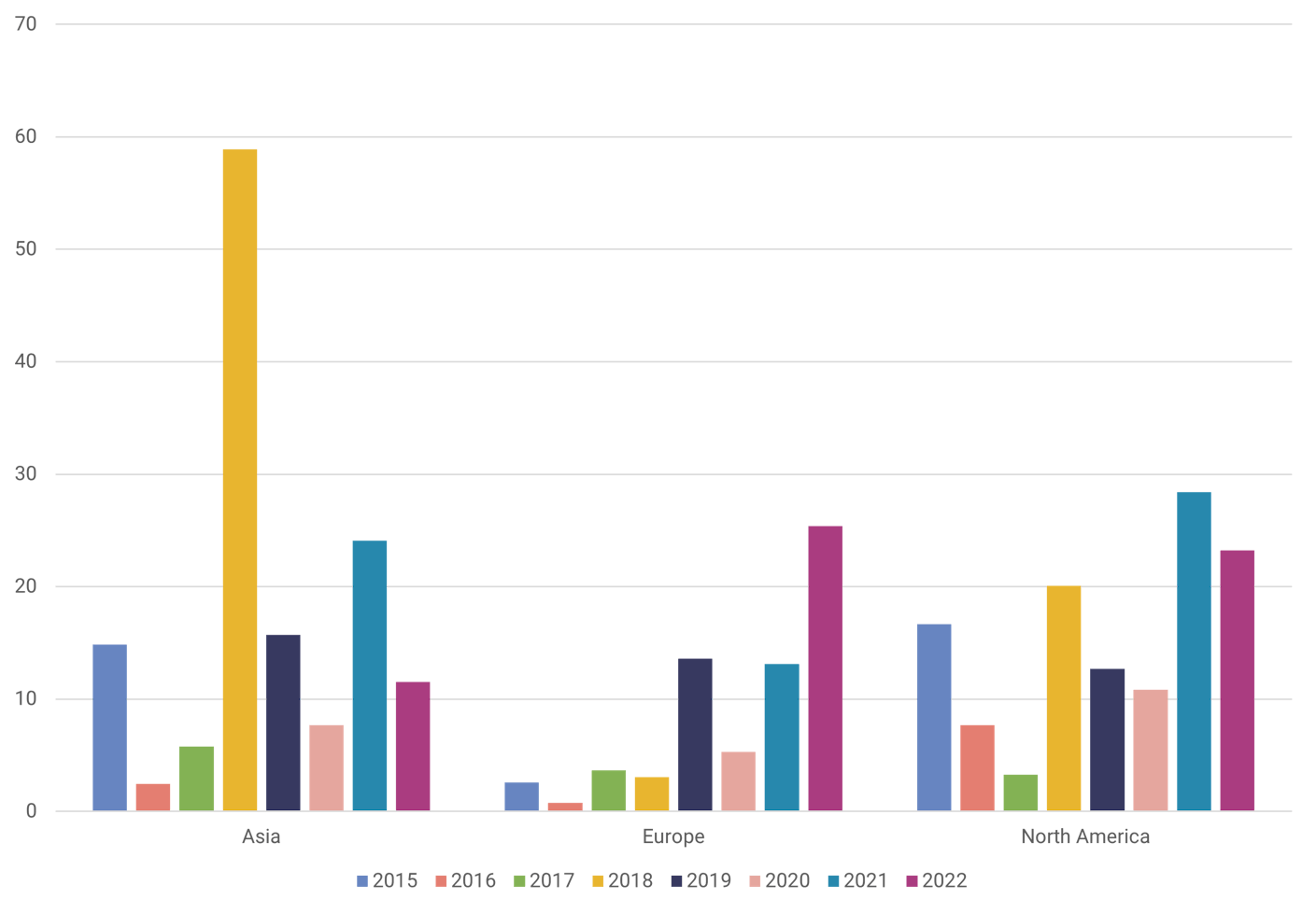 Furthermore, among the top 10 insurtechs of Q1 2022, four of them are from Europe.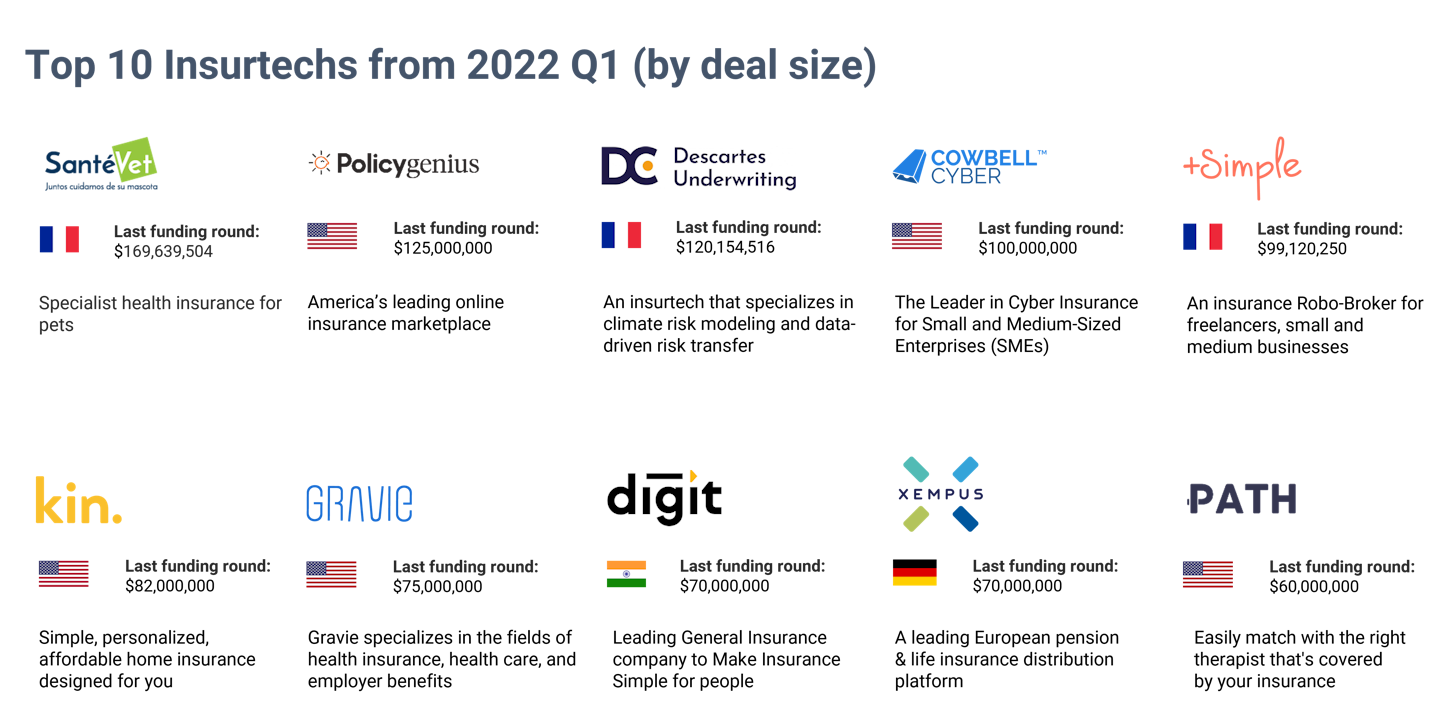 Insurance Bets: Shift from Customer Service to Underwriting
By looking at the insurtech investment bets of insurers, we have seen a shift of insurers' focus from customer service to underwriting. For the first transformation wave, insurers invested in and collaborated with insurtechs that help them get closer to customers and maintain the interaction in order to increase their presence and understand customers better, as the first step of digital transformation.
Moving further in the transformation, insurers pay more and more attention to enforcing their upstream of value chain, where underwriting has become very crucial. Founded in 2019, Descartes Underwriting is an insurtech company that specializes in climate risk modeling and data-driven risk transfer. It works with corporate brokers to design and underwrite innovative, bespoke, and affordable insurance. In January, it has raised $120M in a Series B round of funding and Alma Mundi Venture participated in this round.
Keep An Eye On
Pendella technology, founded in 2018, is a SaaS solution powered by artificial intelligence and big data to automate underwriting and delivery of life insurance. It was backed by four insurers: MassMutual, American Family, RGAx and Aflac Ventures. Pendella Technologies partners with carriers to offer tailored products for the end customer. In a short period, Pendella makes its partners offerings go live, helping agents and insurers to deliver a seamless experience with accelerated underwriting, no medical exams and personalized life and disability insurance.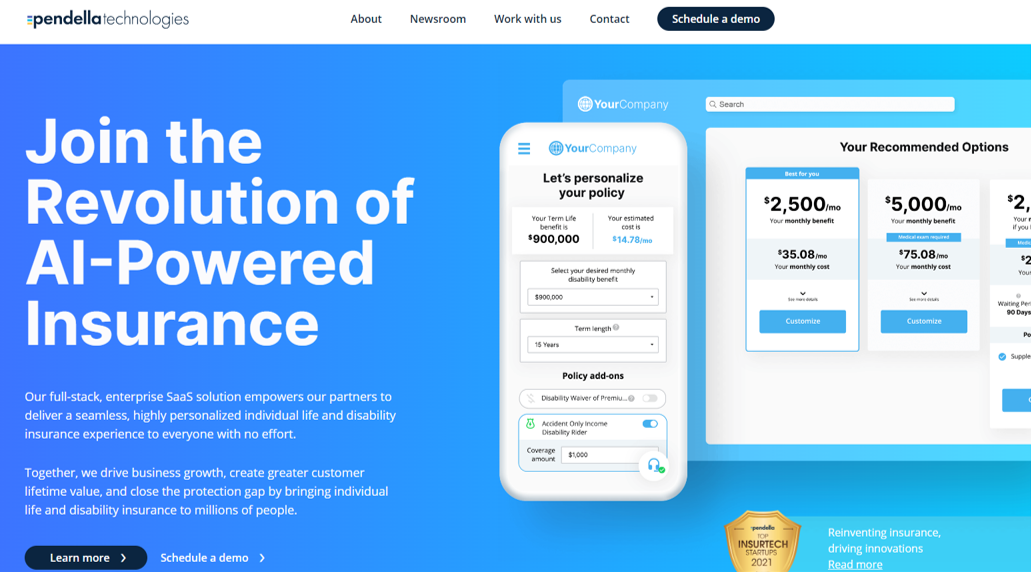 Business Trends Are Consistent with the New 2021 Insurtech Unicorns!
In our Insurtech Global Outlook 2021, we have discovered three important trends or clusters by analyzing the nature, activity, and business models of the new unicorns in 2021, and they were Seamless Distribution, Simple Life and Health and Tech-Fueled Innovation. When looking at the representative insurtechs that have received funding in the first quarter of 2022, we observed this: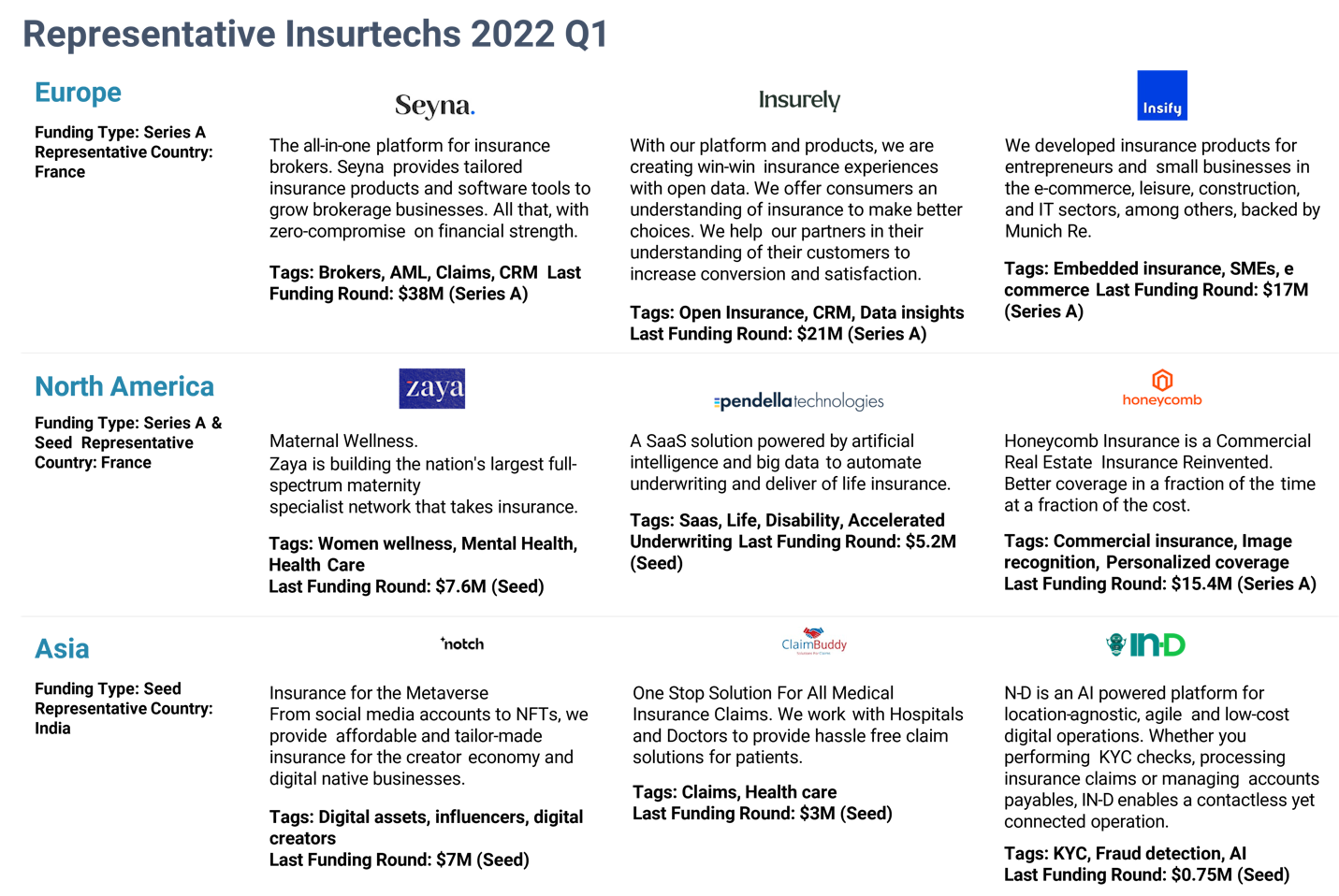 Regarding distribution, Seyna is an all-in-one platform for insurance brokers based in France and provides an insurance creation, management, and distribution platform for brokers to grow their business. Insify is an insurance company based in Amsterdam that offers digital insurance solutions to freelancers and small businesses with embedded insurance.
As for simple life and health, Zaya is a seed-round New York-based maternal wellness provider. It helps maternity care providers accept insurance thereby providing mothers with access to affordable quality care.
Finally, there are companies with a strong tech product applying the AI or other technologies in the claims management processes, or in new markets such as the cybersecurity or in the fraud detection. IN-D is a Singapore-based AI powered platform that helps organizations do KYC, customer onboarding, insurance claims administration and processing invoices. In Asia, Claim Buddy provides one-stop solutions for Health Insurance Claim assistance for patients and hospitals.
Is a New Star Born?
Since last year, there have been buzzwords related to NFT, cryptocurrency, Metaverse, Web 3,etc., and most of the insurer leaders consider these hot topics big hype in the market.
In the new wave of early insurtech, we have found Notch, a new insurance for metaverse. Notch, based in Israel, provides simple and affordable coverage for creator economy and digital assets from social media accounts to NFTs. They are offering insurance for creators to protect their Instagram account against hacks and coverage for NFTs against social engineering attacks.
Is it the new wave of innovation, real market disruption, or just hype? We will follow it!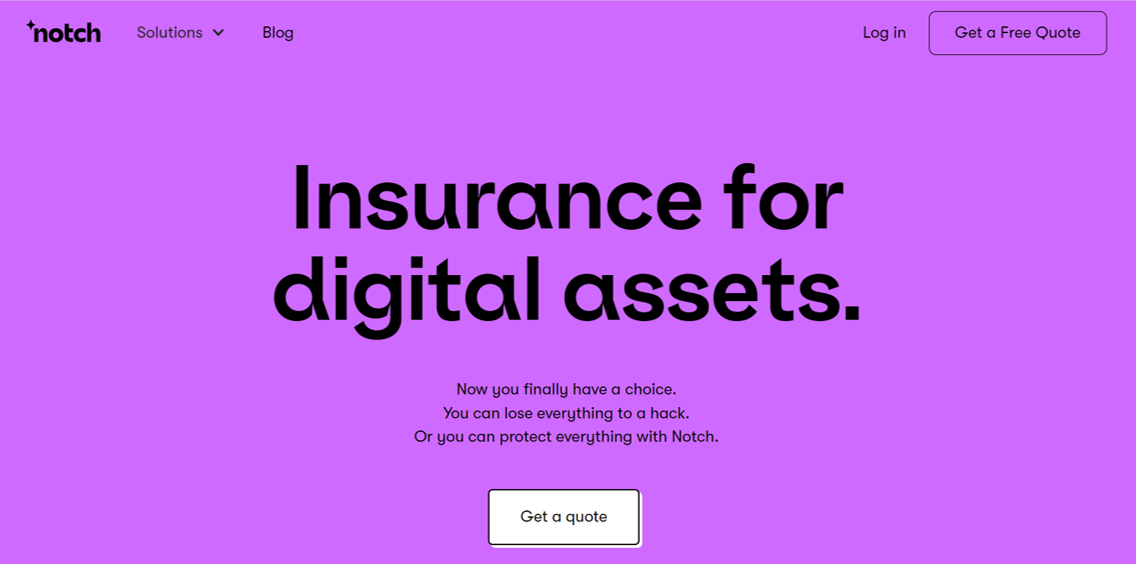 Published on 01/01/2023
~ 4 minutes