HIGHLIGHT /
In 2022, Ping An has been named the World's Most Valuable Insurance Brand for the sixth year in a row by Brand Finance and has become the largest insurance company worldwide by total assets.
In 2022, Ping An has been named the World's Most Valuable Insurance Brand for the sixth year in a row by Brand Finance and has become the largest insurance company worldwide by total assets.
According to its annual report, Ping An achieved an 18.9% operating ROE in 2021, and in the first quarter of 2022, even though faced with global capital market volatility (COVID and geopolitical conflicts), shrinking demand, supply chain disruption, and weakening expectations amid sporadic COVID-19 outbreaks in its domestic market, Ping An's operating profit attributable to shareholders of the parent company rose 10.0% year on year.
And this is especially relevant when considering that half of global insurers are unprofitable, according to the Global Insurance Report 2022 revealed by McKinsey & Company. Ping An has been able to build its valuable and sustainable business because of its strategies around ecosystems and technology, which it has started since 2008.
Let's analyze its key success factors with one of its successful stories.
Ping An Good Doctor
Ping An Good Doctor is the largest online healthcare platform, with 420 million registered users and 1.27 billion cumulative consultations. Its strategy consists of connecting to different tools or resources (internal or coming from third-party partners) to offer the best solutions to users. In this sense, the Company has developed different business segments: Online Medical Services, Consumer Healthcare, Health Mall and Health Management & Wellness Interaction, to which it injects different capacities and knowledge.
Ping An Good Doctor's end-to-end strategy aims to cover all the needs that a person may have in everything related to health, both in early or preventive phases, as well as in more advanced phases in which the patient must be treated with more means, since be it in the digital field or in person. What is clear is that the company has become the gateway to healthcare for hundreds of millions of people in China. Thanks to its application just one click away, many people who would otherwise have had more difficulty accessing these services can easily access them.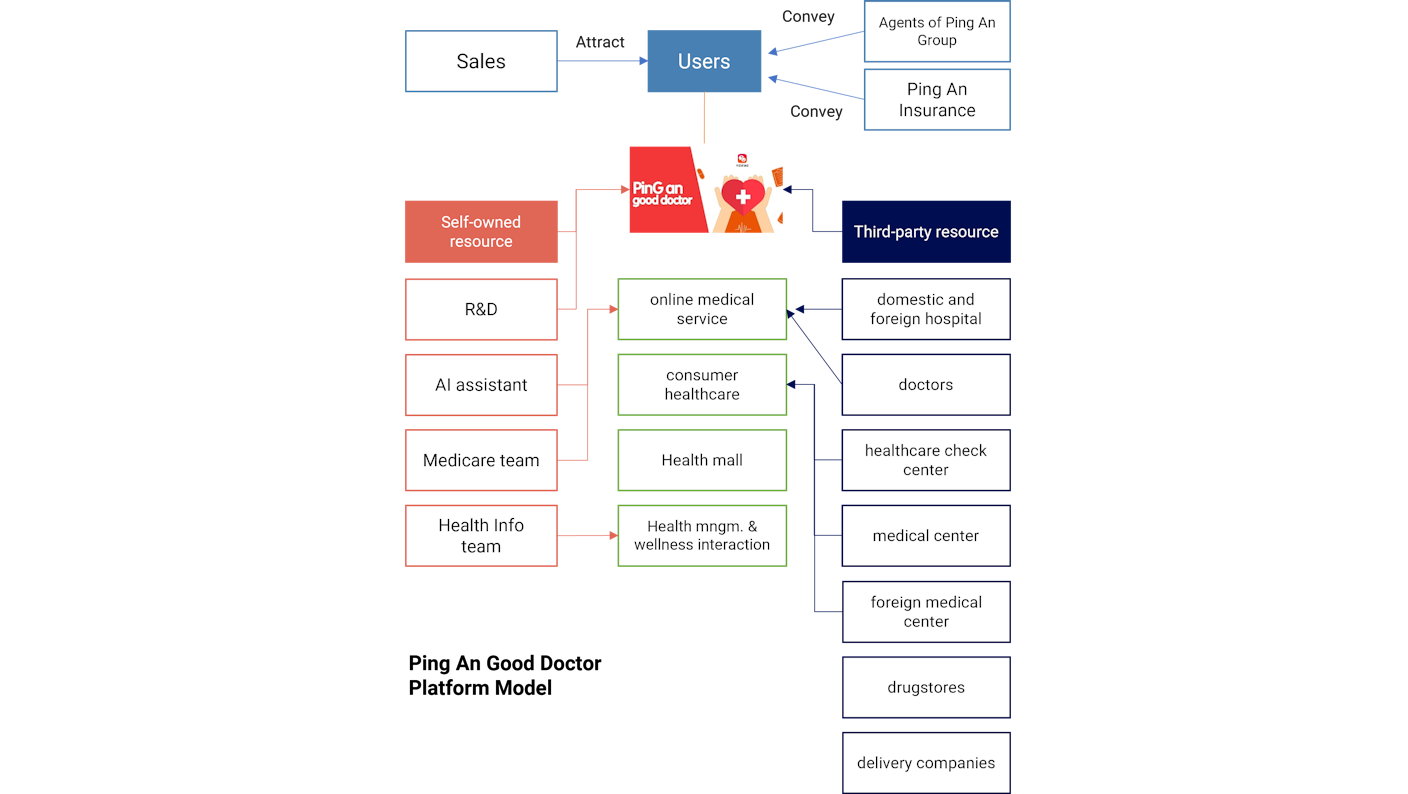 Based on Ping An Good Doctor Platform Model, from the last year the company has deepened the integration of its resource and customer base to build the "health maintenance organizations (HMO) + family doctor memberships + O2O-based medical services" model, in order to respond the demand of different groups. In particular, with the establishment of family doctor memberships and further consolidation of O2O services, the revenue from medical services amounted to RMB 2,280 million, representing an increase of 8% year-on-year and accounting for 31.2% of the total revenue.
Starting from 2021, the company shifted its focus onto B2C users like corporate employee and onto eldercare management. With the immense business opportunities presented by the 310 million corporate employee market, the company has developed three product categories, including employee health check-up service, employee health management and corporate benefit redemption platform. Meanwhile, China will have 360 million people aged above 60 by 2030, with an increase of 38%. Ping An has already laid out its arrangement of resource of family doctor memberships, O2O network and other resource to support the planning for home, community and institution eldercare.
Based on its technology capability and HMO model, the Group has bundled the insurance and the service, called "insurance + service" model, forming a closed loop of supply, demand and payment and accelerating the conversion of new and existing financial customers within Ping An Group. Taking "Zhen Xiang RUN" Health Services Plan, Ping An's life insurance product empowered by Ping An Good Doctor, as an example, the medical and health rights are internalized into the policy, and chronic illness insurance policy users can enjoy high-quality medical and health services without additional payment.
Synergies between Ping An's healthcare ecosystem and main financial businesses have already emerged. Nearly 63% of Ping An's over 227 million retail customers used services from the healthcare ecosystem. Between Ping An Life and healthcare service, 30% of Ping An Life's new customers were converted through healthcare services and nearly 30% of Ping An Life customers use healthcare services.

Conclusion
Ping An has become the most valuable insurance company in the world thanks to its successful transition to a technology conglomerate and the strategy of ecosystems. The company continuously consolidates its resource to address the business challenges from the market, such as the corporate employee and eldercare market. So far, we have already seen how the virtuous circle of insurance-technology-ecosystem is working effectively and it will continue to support the Group's profitability and growth.
Did you know?
In global patent application lists, Ping An ranked first in terms of fintech and digital healthcare and third in terms of artificial intelligence (AI) and blockchain.
As of December 31, 2021, Ping An's technology patent applications increased by 7,008 from the beginning of 2021 to 38,420, more than most other international financial institutions. It has produced 10029 patents during the year of 2020 and 7008 patents in 2021, meaning around 23 patents PER DAY.
According to GlobalData, Ping An Insurance was the top AI innovator in the major banks, central banks, and non-bank competitors sector in the latest quarter (ending January 2022 ), followed by Capital One, PayPal and Visa. AI is one of the key areas identified as being a key disruptive force facing companies in the coming years, and is one of the areas that companies investing resources in now are expecting to reap rewards from. In Digital Health, Ping An ranked first in Top 100 Global Digital Health Patents for 2018-2020, followed by Philips and Johnson & Johnson.
Published on 01/01/2023
~ 5 minutes