HIGHLIGHT /
The autonomous vehicle has come to change the paradigm of the whole Smart Mobility ecosystem and has somehow put upside down as well the insurance industry. Technology is playing an important role on leading the latest advances in autonomous driving. 
"You don't own the car anymore". Strong statement, but accurate to the reality we are to be facing sooner rather than later. The autonomous vehicle has been in the discussion for some years but has lately come to change the paradigm of the whole Smart Mobility ecosystem and has somehow put upside down as well the insurance industry.
AV are not simply driverless cars. There is a progressive transition between the different levels of autonomy that will likely end up in a fully sufficiently-driven vehicle. For now, assistance technologies are playing the starring role within this modality and are leading to strong improvements in transportation efficiency, reduced traffic congestion, lower pollution and, mainly, decreased accidents. As these vehicles enter the roads, however, traffic, software and public infrastructure face a new challenge.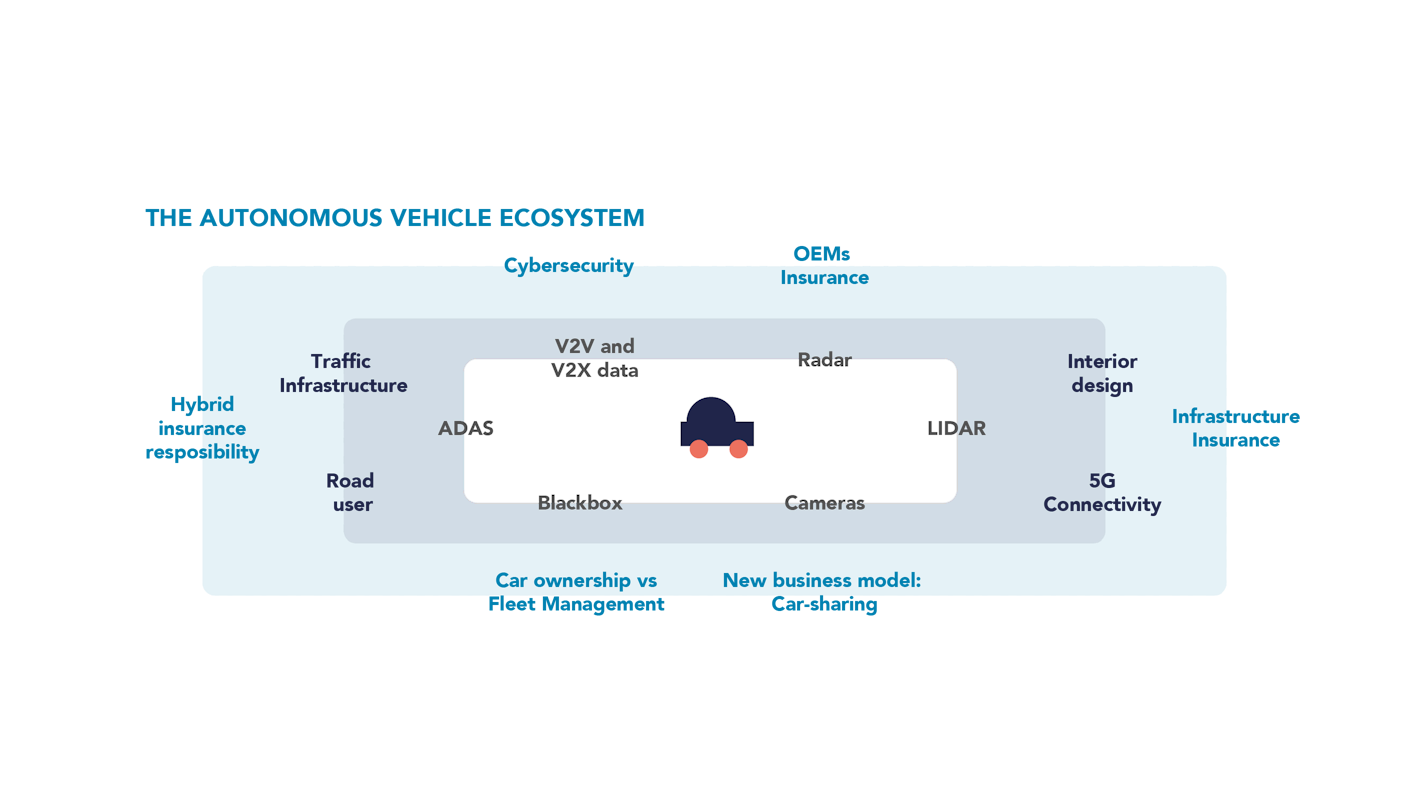 Challenges mean changes and these inquiries. Who holds responsibility? Whose property is the vehicle of? Will insurance still be needed? What will be the role of the driver? The penetration of these vehicles into the automotive industry raises a new business model within the ecosystem. Car ownership will no longer be the normal and so many doubts gain importance for manufacturers, sellers, and also insurers.
These actors, along with others as TechGiants and startups have to reinvent their value propositions, whether by joining one another in partnerships or integrating vertically their businesses to offer a response to these questions and so to the new needs of consumers. Companies like Alphabet's Waymo or Baidu Apollo are just some of the many who have found a possibility to deploy their knowledge into the automotive sector. Also Amazon, who recently bought startup Zoox, demonstrate the increasing interest that technological mobility and autonomous vehicles leverage.
Autonomous cars, due to its nature, will definitely have an impact on auto insurance and in the mobility ecosystem.
Tesla, likewise, has took advantage of the information they control as manufacturers and launched Tesla Insurance for guaranteeing a more accurate risk management. This is just the beginning of a model that will certainly take power over the following years, as insurance companies will have to upraise themselves to the level of car manufacturers or these latter will assume the role of insurers.
From NTT DATA we envision a smarter and safer mobility industry. Despite there is still much to be developed and the scenario is yet raw in terms of regulations and responsibilities, autonomous vehicles are surely going to take over the roads. The investment gathered by them evidences it. Whether it is in 2020, 2050 or 2060, AV are going to disrupt completely the Auto market, transforming it and all those implicated within it neither for better nor worse, just different.
Published on 01/01/2023
~ 3 minutes