HIGHLIGHT /
Operational excellence empowers businesses to maximize resource potential, deliver value efficiently, and transcend the ordinary to achieve extraordinary operational expertise.
Operational excellence is the cornerstone of organizational efficiency and effectiveness. It empowers businesses to achieve more with their existing resources, harnessing the full potential of their workforce and optimizing their processes.
Contrary to the misconception of resource reduction, operational excellence is a collaborative journey to unlock the true potential of available resources. At its core, it revolves around the art of delivering products or services to customers precisely when they need them, at the lowest feasible cost, with minimal effort, and at a price that aligns with customer expectations. In this pursuit, companies transcend the ordinary and aspire to achieve extraordinary levels of operational expertise. 
Why is it important to reduce waste within a process?
In the pursuit of efficiency and sustainability, organizations worldwide are increasingly turning to process reengineering as a strategic imperative. This transformative approach seeks to identify and eliminate various types of waste that obstruct productivity, consume resources, and impede progress. Through meticulous analysis and innovative solutions, reengineering aims to optimize processes, streamline operations, and ultimately enhance an organization's ability to thrive in today's competitive landscape.
This post delves into the types of waste that are targeted through reengineering, shedding light on the central role they play in the quest for operational excellence.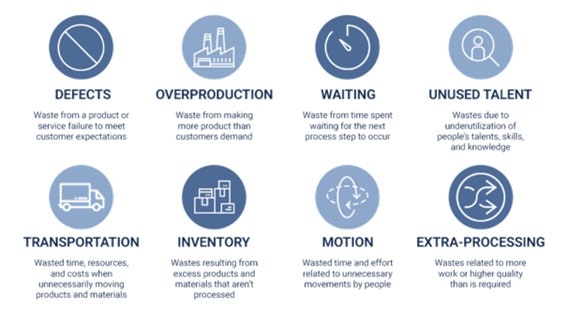 It is imperative to consider process reengineering as a requirement before embarking on digitalization or automation initiatives. This approach ensures that existing inefficiencies and waste are addressed and eliminated before they can be inadvertently transferred to new systems. By optimizing processes first, organizations not only prevent the replication of inefficiencies but also pave the way for more effective and streamlined digital transformations, ultimately leading to greater productivity and improved outcomes.

Insurance Focus Simplifying Intelligently
Less is More: Simple Processes to Deliver Simple Products to Customers
How do we approach it? 
When it comes to optimizing processes, a key consideration is whether to incorporate technology or not. The primary goal should always be to simplify processes, making them more efficient and effective. Keeping it simple requires choices. Simplicity is not the same as being basic; it involves a prior thinking and decision-making process, such as stopping certain tasks or introducing new ones. 
To achieve this, we need to leverage the Insurance value chain and process reference models and tested tools and methodologies to accelerate redesign efforts.
It's about understanding that 'less is more' when it comes to intelligent simplification.  
The preferred approach is the DMAIC model, which can be tailored to each client's unique needs and maturity level:
Define: At the outset, the project's foundations and its intended direction for improvement must be established.

Measure: Gathering accurate data is crucial for understanding the current performance of the process.

Analyze: Insurers must delve deep into data and processes to identify the root causes of any issues.

Improve: Based on its analysis, they should define a new, improved process design.

Control: To ensure sustained efficiency, it is suggested that measures be implemented to control and monitor the improved process over time.
In parallel, the optimal digitization and automation strategy should also be determined. As for us, our Quanta assessment tool plays a pivotal role in this phase, enabling us to evaluate the suitability of various technologies, including process/task mining, iBMPs/low code, RPA/iPaaS, AI/Machine learning, and other SaaS solutions. It's important to note that not all processes may be suitable for digitalization or automation.
Our approach is multifaceted, encompassing both process redesign for simplicity and the strategic integration of technology. Insurance companies should not invest time and resources, both technological and human, in processes that are not worth maintaining. This comprehensive strategy ensures that our clients not only improve their processes but also harness the power of technology where it adds the most value.
In conclusion, process reengineering is the compass that guides organizations on their journey to operational excellence by identifying and eliminating waste. Selecting the right digitalization and automation strategies, guided by reliable, good-quality tools, ensures a comprehensive approach. By embracing operational excellence and process optimization, organizations not only reduce inefficiencies but also pave the way for more successful digital transformations, setting the stage for enhanced productivity and improved outcomes.
Published on 28/09/2023
~ 4 minutes